The Dummies' Guide to Coming Out of the Comfort Zone
Michael
You keep on hearing this line "get out of your #comfort zone." What does it mean? Why does it make you feel like you should get "out" of your certain comfortable space and do something else that you may be uncomfortable with? (MAYBE it's something everyone tells you to do so you just do it to try to please them)
Life is so short. It comes and goes in a blink of an eye. Did you ever think about that? What if you wake up one day and it is all over. What will your regrets be? A person who had encountered some loss would be able to relate on the "shortness" of life. It comes and goes, just like a chaff in the wind. What if you have never truly lived because you were bounded by your comfort zone and fears? That would be just too bad, wouldn't it?
"You never change your life until you step out of your comfort zone. Change begins at the end of your comfort zone." -Roy T. Bennett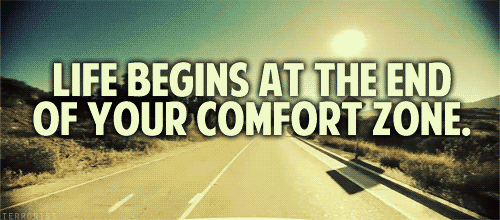 Allot of people seems to be stuck in the infamous "comfort zone."
https://twitter.com/canjeelo4lyfe/status/830778719899877376
https://twitter.com/celestica_wars/status/830300050999898115
Sometimes I still wonder how you're doing..but then I stop myself and say why? They aren't doing the same. #moveon

— ⚓︎ (@renadornfeld) February 15, 2017
People experience different types of comfort zones. Not every comfort zone is similar to each other. The realities of their lives and how far people are willing to go defines the type of length they would go before going beyond the safety of their "Safe zone."
Let's see how "comfort zone" is defined
Cambridge
defines
it as:
a situation in which you feel comfortable and in which your ability and determination are not being tested:
Rock climbing pushes many people beyond their comfort zones.
merriam-webster.com
 defines it as:
the temperature range within which one is comfortable
the level at which one functions with ease and familiarity
Ever wonder why some people seem to glide effortlessly through life, handling problems as if they were riding waves on a surfboard?

Athletes who physically push themselves, whether they are training for a marathon or a long distance swim, break through the barriers of that comfort zone, holding on until they reach their goal: that 5-mile run, that 5th lap, the top of the climbing wall. They achieve their athletic goal, but something else happens in the process: they are rewiring their brain to accept physical discomfort.

Comfort zones are cozy places defined by the familiar things with which you fill your daily lives with.

They are the stuff you don't question and go through the motions of doing. They are predictable. Unchallenging. Comforting. Like meatloaf and mashed potatoes. And like eating meatloaf every single day, staying within your comfort zone all the time can be bad for your health.

Society today is geared towards removing obstacles from your life. Remote controls change the television channels from afar, room temperatures are altered with the flick of a button, cars start themselves without you turning a key (some even drive themselves). In the process, you are losing touch with yourself and when faced with a difficult task, it can appear more daunting and stressful than it actually is because you've been weaned off of dealing with obstacles.

While interviewing top professional adventure and endurance athletes, Brad Shulberg of Outside Magazine noted in his article[1] that despite their different life choices, from mountain climbing to long distance swimming, these highly successful athletes physically pushed themselves to their limits to reach their final goals—completing the race, reaching the summit. And they had one thing in common: they taught themselves to embrace life outside their comfort zones. They became comfortable with being uncomfortable. Life Is About How To Be Comfortable With Being Uncomfortable
Who shall we learn these lessons from?
The best lesson to learn or the best inspirational source to follow is from athletes and entrepreneurs. No one became champion overnight…and they sure didn't do it within their comfort zone.
An Encouraging Start for Melvin Gordon – Chargers.com

An Encouraging Start for Melvin Gordon – Chargers.com … he looked confident and assertive. To top it all off, after failing to record a touchdown during last year's rookie campaign, he took a short pass from Philip Rivers, darted 44-yards up the right sideline and forced his way over a defender into the …
6 Success Secrets From 23-Time Gold Medalist Michael Phelps – Entrepreneur

6 Success Secrets From 23-Time Gold Medalist Michael Phelps – Entrepreneur As the most decorated athlete in Olympic history, Michael Phelps won his 23rd gold medal on Saturday at the medley relay. Emerging from retirement to take on one final round of Olympic Games, Phelps came motivated to win. There's no doubt that Phelps …
This Engineer Left His Government Job to Become a Farmer and Is Earning in Crores Now! – The Better India (blog)

This Engineer Left His Government Job to Become a Farmer and Is Earning in Crores Now! – The Better India (blog) Harish Dhandev, a 24-year-old engineer, left his government job in 2013 and started doing aloe vera farming. Today, he is the owner of a company with a turnover in crores. At a time when the number of individuals taking up farming in India is gradually …
These people have one thing in common. They seem to be faced with a situation that made them make a very important decision. It was the decision to change. The #fear for them to make changes in their lives was real. Change is always uncomfortable, and yet they took that chance.
Fear of Change Phobia – Metathesiophobia

Fear of Change Phobia – Metathesiophobia The fear of change or changing things is called Metathesiophobia. It is often linked with Tropophobia which is the fear of moving. The origin of the word Metathesiophobia comes from Greek 'meta' meaning change and phobos meaning fear.

The fear of change is evolutionary in humans. Since times immemorial, man has liked routine. Our internal predispositions (heredity and genetics) teach us to resist change mainly to 'always feel in control'.  But the normal fear of change becomes a full blown phobia when it is irrational, persistent and very intense.

Fear of being unable to adapt, fear of meeting new people or fear of environmental changes can also deter one's adaptability. Insecurity and guilt are other common emotions behind Metathesiophobia.
I'll have more post on fears but today, here are some steps to take. Only take this if you are serious about considering to do something about your comfort zone.
Acknowledge
The first thing to do when you realize that you are stuck in your comfort zone is to acknowledge it. Have you seen a man who is so puffed up in pride and ego that he admits to no wrong and refuses to even make any changes in his life? Don't be that man.
Today, nobody is going to tell you what you can or cannot do. You will probably not listen anyway. The real chance comes from inside when you take responsibility over your life. The first step is to acknowledge where you are now. That single acknowledgment is powerful! It holds the key to understanding of the ownership that only you have over the situation.
Reflect
Spen some quiet time to reflect on the situation. The problem with the world today is people don't spend enough time reflecting on their situation. Everything is microwaveable – so much money is spent because problems must be solved immediately.
However, let's be a different kind of people. Let's not be the 99% but the 1% who spend time to reflect on the situation that we are in now. Why so? It's because it gives us clarity, wisdom and understanding. By reflection, we would be wise enough to be clear and therefore able to make decisions with very strong convictions. By understanding our situation, it helps us not to fall into the same trap again. We are able to identify what works for us and warns when we are falling into the same dangerous "quick sand" again.
Plan
After acknowledging your situation and going through some time of reflection, how do you proceed? Well, coming out with a plan might be a good start. Start with sitting down and commit some time to draft a plan.
Start with sitting down and commit some time to draft a plan. Your plan doesn't need to be a formal paper neither must it be submitted to anyone either. It is your personal plan and yours only. Some people would choose to share this plan with their mentors or leaders whom they are journeying with and that's perfectly fine. Find the best way to reach your goals. Make sure that your goals are described vividly and as best possible that would make a last impact upon you.
You must be able to see yourself achieving that goal. A good plan is a plan that is honest, sincere and in sync with reality. There is never the"best plan". The best plan comes as you progress with your plans because many doors of opportunity would open to you during the course of your journey.
Move
The last of the steps is a never ending and that is to move. You can plan all you like but if you never move, nothing will happen. You will see the same thing, you will have the same results and you will not obtain the desired results that you wished for. The miracle of change dropping on your lap is truthfully and probably never going to happen. You have to get up, own it up and be the change that you want to see!
I know of some people that may not have the privileged to make the changes they want immediately because of their situation, but that's okay. As long as you are doing small changes progressively, it builds momentum and that is the key to bring about change!
Getting out of your comfort zone isn't easy.
I know. It takes time, effort (lots of effort actually), bravery and strength to push and persevere till the end goal is reached. Not many people can do it. You will be surprised to know even the people who tell you to "get out of the comfort zone" are actually stuck there themselves. It's just that sometimes they may be a different level than us so we felt that they are already successful but actually they too have their higher goals to obtain too.
Coming out of the comfort zone is a never ending process because once we take new territory, the human heart always wants to achieve more. However, the first step is always important and always do remember "life is just outside the comfort zone"
Here's an inspiration video to encourage you further
https://www.youtube.com/watch?v=daUkGUwQ4X0